2010 Juli, Þingvellir – Þingvallavatn
---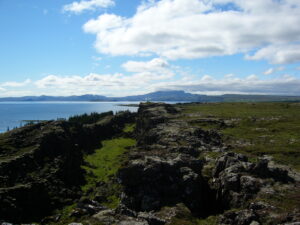 A visit to Þingvallavatn is a must for all of us when we are back in Iceland. With a surface of 84 km² it is the largest natural lake in Iceland. Its greatest depth is at 114 m.
The lake is part of the Þingvellir National Park.
The hallmark of the national park welcoming you to one of he most scenic places in Iceland.
The volcanic origin of the islands in the lake is clearly visible. The cracks and faults around it, of which the famous Almannagjá canyon is the largest, is where the Eurasian and North American tectonic plates meet. Silfra fissure is a popular SCUBA and snorkeling site. The only outflow from lake Þingvallavatn is the Sog River. Þingvellir is a place in Bláskógabyggð in southwestern Iceland, near the peninsula of Reykjanes and the Hengill volcanic area. Þingvellir is a site of historical, cultural, and geological importance and is one of the most popular tourist destinations in Iceland. It is the site of a rift valley that marks the crest of the Mid-Atlantic Ridge. It is also home to Þingvallavatn, the largest natural lake in Iceland.
Parliament or Alþingi was established at Þingvellir in 930 and remained there until 1789. Þingvellir National Park was founded in 1930 to protect the remains of the parliament site and was later expanded to protect natural phenomena in the surrounding area. Þingvellir National Park was the first national park in Iceland and was decreed "a protected national shrine for all Icelanders, the perpetual property of the Icelandic nation under the preservation of parliament, never to be sold or mortgaged.
Below pictures from our trip to Þingvellir along with Unnur's mother July 2010.