Background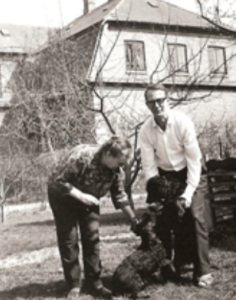 Our interest in gastronomy and wine dates back to the late sixties, when Magne was a student having the luck of living at Ceresvej 5, Frederiksberg, almost next door to the Royal Veterinary and Agricultural University which recently merged with the University of Copenhagen as the Faculty of Life Sciences. subsequently, veternaryeducation became part of the Faculty of Health and Medical Sciences, University of Copenhagen.
Some ten students occupied the villa together with "tante" (aunt), a Danish refugee from the Russian Revolution and the owners, Bodil and Philip Ingerslev, not to mention Pjevs & Pjuske (their dogs) and some 10-15 cats! Either you liked or disliked the open minded and intellectual atmosphere, part of which was responsibility and mutual respect. Bodil and Philip, who had no children themselves headed the "family" and made sure that none of us left ithout proper understanding of European history, literature and art, to which should be added gastronomy and appreciation of good wine.
Bodil was a student from Aarhus Katedralskole and was subsequently educated within fashion, resulting in many contacts with painters and other artists. Philip came from an old family of clergymen, graduated in law, and had his own legal practice. He was dedicated to defending poor people and to human rights and known for his defense in the Hope Computer-trial (1974), the Christiania-trial (1977) and not least the Glistrup-trial. After Worldwar II, they spend much time travelling in Europe on motor cycle, not least in France. Among their wine favorites, Magne still remembers Château Cos d'Estournel, moderately priced at that time, and the introduction to wines from Nuits-Saint-George, the names of which unfortunately has been forgotten. Philip sadly passed away in 1981 at the age of 65. Bodil stayed at Ceresvej 5, Frederiksberg, until her death in 1986. Our brief info on wine is dedicated to Bodil and Philip, both of whom have been a big inspiration to us.