Visiting Ingibjörg og Viktor in Iceland – August 15-18th 2019
---
Shortly a few words to introduce our hosts. When we first met Viktor, he had a small gallery Studio Stafn in Ingólfsstræti in Reykjavík city. Later on, he moved to some very good facilities in Hátún in Reykjavík. In addition to working as an art conservator, he also facilitated the sale of Icelandic art and he has helped us to find the paintings we have of Icelandic art. For additional information please see the description of their visit to DK.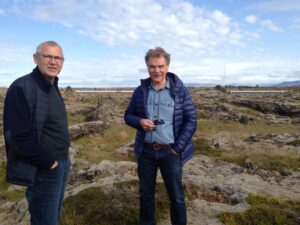 We were picked up in Keflavík Airport by Viktor, who subsequently took us to the location Gálgahraun/Bessastaðahraun, where Jóhannes S. Kjarval often painted. Gálgahraun (Gallow´s Lava) is a unique lava field in Álftanes at the north end of Garðahraun at Lambhúsatjörn Pond. The lava originates from Mt. Búrfell above Hafnarfjörður. It is a part of a much larger lava flow from about 8000 years ago, known as Búrfellshraun. Gálgahraun gets its name from a few tall, cleft rocks called Gálgaklettar (Gallow´s Rocks), where criminals were hanged and buried.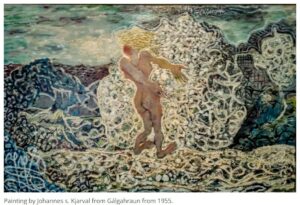 Around 1945 Kjarval started to paint at the Gálgahraun lava field on the Álftanes headland south of Reykjavík. He went there often in the subsequent two decades and painted a number of pieces there. In the Gálgahraun paintings, Kjarval emphasises the bareness of the lava and the diverse craggy shapes to be found there decorated by low-growing vegetation. The occasional strange lava formations also became the subject of his art. His depiction of subjects from Gálgahraun in this period is highly diverse. Prominent are examples where the artist uses the imagery of Cubism, deconstructs the forms of the earth, and interprets the myriad nuances of colors hidden in mosses and rocks. The paintings from Gálgahraun reflect Kjarval's sensitivity to his surroundings and his talent for seeing and experiencing the beauty and the diversity of nature in a place, where most people would only see a black field of lava.
After a long walk among the lavaformations we visited Icelands most famous pizzeria, Álftanes Kaffi, a highly recommendable place for lunch.
Before returning to Bakkagerði 6, we shortly visited Kjarvalstaðir and Studio Stafn to have a look at a painting by Svavar.