Múlakot in Fljótshlið
---
On the following day a long trip to Þórsmörk was waiting.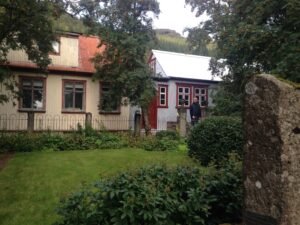 First stop was the new Lava Center in Hvolsvöllur, an interactive, high-tech educational exhibition, depicting volcanic activity, earthquakes and the creation of Iceland over millions of years. This is the right place to go for educating our grandchildren! Do not forget the cosy coffeehouse!
Next stop was Múlakot in Fljótshlið, were the artist Ólafur Túbals lived.
Múlakot is a small place in Fljótshlíð. The houses were built on remnants between 1898 and 1946 on the ruins of a turf buildings, which can still be seen in the basement of the houses. His mother, Guðbjörg Þorleifsdóttir, made in 1897 an amusement park here, which is now one of the oldest and most important parks in Iceland.
Ásgrímur Jónsson painted the oil paintings Múlakot and Morgunn in Fljótshlíð on the spot. Ólafur Túbals received his first instruction in visual art by Ásgrímur. Ólafur later went on to study art in Denmark, and many of his artists friends stayed in Múlakot during the summer, including Gunnlaugur Scheving, Jón Engilberts, Kristín Jónsdóttir and Júliana Sveinsdóttir.
Ólafur was the guide of the painter Johannes Larsen, who traveled around Iceland in the summer of 1927 and 1930.
In the book "Sagafærden" edited by the Johannes Larsen Museum, Kerteminde, in 2016 you can find detailed information on how Ólafur Túbals guided Johannes Larsen during his visits to historical places related to the new edition of the Sagas of Iceland.