Þórsmörk – Nauthúsagil
---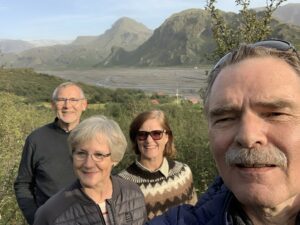 From Múlakot we continued towards Þórsmörk, which you find in the South Highlands of Iceland between the mountain glaciers of Tindfjallajökull and the world famous Eyjafjallajökull, with Mýrdalsjökul at the rear end of the valley. Þórsmörk is named after the Nordic God of Thunder, Þór, and the real heart of it is the area between the rivers Krossá, Þröngá and Markarfljót.
Þórsmörk is one of the country's most popular hiking destinations and a favourite location for photographers and nature lovers.
It can only be visited in special cars and knowledge on the rivers Krossá, Þröngá, and Markarfljót is of vital importance, since you will have to cross them all to reach Þórsmörk, a unique place you will never forget.
Unnur and I first visited Þórsmörk in 1969, when we were married.
There are some hidden places in Iceland. We visited one of them, the mystical Nauthúsagil ravine in South-Iceland, which translated into English means Bull Shed Ravine. Characteristic of Nauthúsagil is the rowan that grows on the rims of the ravine and in some places it creates a see-through roof, which almost covers the ravine from above and adds to the mystique. It is especially beautiful when the sun shines through the rowan and into the ravine.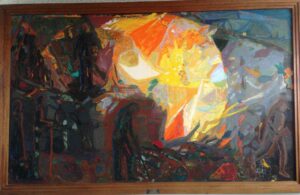 We stayed overnight in the Edda Hotel Skógar, where we saw María Hugrún Ólafsdóttir's painting, Njálsbrenna, one of her very best paintings.