Helludal – Listasafn Árnesinga
---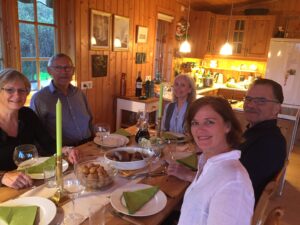 When we late in the evening finally arrived at the holiday house of Viktor's sister, Siggu and Jón in Helludal close to Geysir, we very much appreciated half an hour in their hot pot enjoying a glass of white wine before we were invited for dinner, a very joyfull evening in good company as you can see from the pictures.
On our way back to Reykjavík the next day, Ingibjörg and Viktor took us to Listasafn Árnesinga in Hveragerði, a donation from Ragnar Jónsson at Smára, a highly recommendable place for those, who love Icelandic art.
Thanks to Ingibjörg and Viktor, we have been left with unforgettable experiences, we never have seen the like.