2012 August, Beaune
---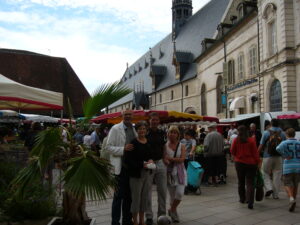 Magne, Unnur, Markús and Hafdís
In 2012 our August visit to Burgundy took place from the 23rd to 31st. Due to bad weather conditions during most of the year, including hail in Côte de Beaune, the harvest was late, and we had no problem as to organizing tastings.
We spent the first two days with Hafdís and Markús, who were on their way to Nice. We introduced them to the most important appellations in both Côte de Nuits and Côte de Beaune, Abbeaye de Cîteaux, the cradle of Cisterciens, Hôtel Dieu, and the market in Beaune. Finally, they were introduced to French gastronomy at the restaurant La Buissonniére in Ladoix Serrigny. For the first time in their life both Hafdís and Markús had sweetbread as a starter!
Wine tastings included Domaine Michel Gay (this time his son took us on a tour de force in the cellar), Domaine Charles (Pascal Charles father, Francois, headed the tasting, a very talkative guy), Domaine Michel Caillot (our first tasting with Michel himself), Domaine Creusefond, and Domaine Mazilly. Unfortunately, Sylvie Esmonin had fallen ill and was unable to carry through our annual tasting!
This year we took up our old habit of exploring Burgundy. We went to the southern parts of Beaujourlais to see the "Pierres Dorées" in Oingt, Janioux and S. Laurent d'Oingt, an area wich might be compared with Toscany.
The gastronomic highlight was Restaurant Terminus in Arnay-le-Duc, an address provided by the owner of Domaine Mazilly. He was right, and we now do understand, why many local people are prepared to travel 30-40 km to enjoy a meal like that we had. Will definitely return to this restaurant run by parents and their two children.