2015 January 30 th – Vera
---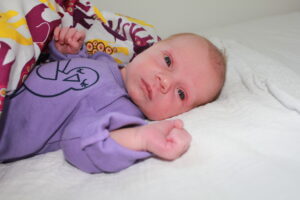 On Friday the 30th of January 2015, our third grandchild, Vera, was born at 8:30 am at Sjællands Universitetshospital, in Roskilde (51 cm long; weight 3270 g).
During breakfast with Frida at seven o'clock in the morning, the sack of amniotic fluid broke and Micahel called her num to arrange transport to the Kindergarten for Gustav and Frida. Due to rush hour traffic Unnur was delayed, but she managed, and the subsequent drive to the hospital was even more hectic. Twenty-eight minutes after their arrival, Gitte had given birth to our 3rd grandchild after a very complicated pregnancy dominated by severe morning sickness and nausea.
All three of them, returned safe but tired later in the afternoon.