Bifröst, September 2011
---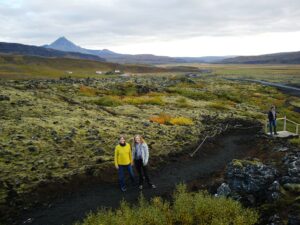 Bifröst is a small settlement in the valley Nordurárdalur some 30 km north of Borgarnes in western Iceland, in the Mýrasýsla county. Bifrost is village with a population of 200, but during the winter months 600 - 700 people live there.
It is the site of Bifröst University, a small private campus university offering degrees in law and social sciences.
Bifröst is surrounded by a 3,000 year old lava field, Grábrókarhraun, which has been overgrown with moss and heather. Just behind the university campus there is an old volcano called Grábrók and another mountain called Grábrókarfell.