Christianskirkjan in Klaksvík – Borðoy
---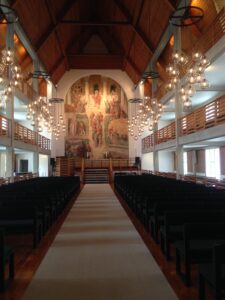 Klaksvík Most elderly Danes remember the dispute about the nazi doctor, Olaf Halvorsen, employed as a substitute at the hospital of Klaksvík in 1951. As result of his employment as SS doctor at the East Front, he was excluded from the Danish medical Association and subsequently sacked by the Faroese and Danish authorities in 1955. However, some 100 inhabitants of Klaksvík defended Halvorsen, and it came to a major crises involving Danish police forces and even a frigat (Rolf Krake) and two minor ships (Skarven and Ertholm) were sent to the Faroe Islands. This crisis did not end until May 1956!
Christianskirkjan (Christian's Church) is a modern church building in Klaksvík. It was consecrated in 1963.
Christian's Church of Klaksvík is a reminiscent of a Faroese wooden church, classical Viking buildings, or Faroese farms. The outer walls are made of basalt blocks, and the long sides of the roof frame have five unbroken gables. The large window frontage is made in one frame. The bell tower stands somewhat apart from the church building.
The imposing altarpiece of the Great Banquet is seven meters high. The painting had existed long before the church was built. It was created by the Danish church artist Joakim Skovgaard in 1901 as a fresco for the cathedral church in the Danish town of Viborg.
The stained glass in the rose window was created by Danish artist Ulrikke Marseen. The design depicts Christ as the one who bears the weight of the world. This Gothic piece hearkens to the ruins of the Magnus Cathedral in the Faroese village of Kirkjubøur. The baptismal font is made of granite and is also Danish. It is about 4,000 years old and was originally a pagan offering vessel. It comes from a ruin of a church in North Zealand in Denmark.
Two memorial plaques in the church bear witness that the church was built in commemoration of the Faroese fishermen and sailors who, sailing as civilians, lost their lives at the time of the British occupation of the Faroe Islands in World War II. The other plaque reports that the church was built in memory of the Danish King, Christian X, after whom the church is named.
Edward Fugløs, ten, mixed-media wood and acrylic ornamental reliefs from 2013, Jesus from Nazareth, were created for "Christianskirkjan"