Gøta kirkja, Eysturoy
---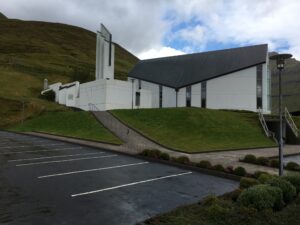 Gøtugjógv is a settlement in the Faroe Islands, located on the northeastern Eysturoy towards Gøtuvík, between Norðragøta and Syðrugøta.
The new Gøta Church was consecrated on 25 June 1995.
Tróndur Patursson has created the artistic decoration. The altarpiece in coloured glass gives the church a special lighting. The baptismal font is blue as the sea and the stand is shaped like flames as a symbol of the Holy Spirit. In the ceiling are six lamps and on the walls 24 sconces - 12 small and 12 large - all in glass. The big twelve are all adorned with a cross. The bell tower is constructed as three crosses, symbolizing the crosses of Calvary.