Listasavn Føroya and Mariukirkjan, Thórshavn
---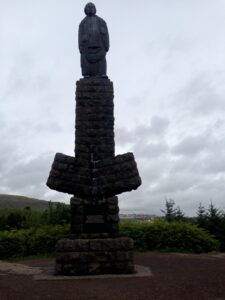 Among our priorities were of course the Listasavn Føroya in Thórshavn founded as late as 1989! It contains a fantastic collection of Faroese art from 1830 and onwards, including Sámal Joensen- Mikines (1906-1979), Ruth Smith (1913-1958), Janus Kamban (1913-2009), Jack Kampmann (1914-1989), Jóannes Kristiansen (1918-1988), Ingálvur av Reyni (1920-2005), Hans Jacob Glerfoss (1937-2010), William (1900-1991) and Zacharias Heinesen (1936-), Tummas Arge (1942-1978), Tróndur Patursson (1944-) and Hans Pauli Olsen (1957-).
We spent quite some time in the museum and the surrounding park. Surely, we will come back some day.
On our way from Listasavn Førya to Williamshús, the William Heinesen Museum, we visited the Church of Our Lady, Mariukirkjan, a beautiful new church consecrated in 1987. The glass mosaic at its entrance is made by Sven Havsteen-Mikkelsen, while Tróndur Paturssson designed and painted the glass panels behind the alter.