Listasavnið á Sandi and Húsavík, Sandoy
---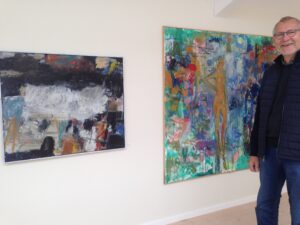 Visiting the Art Galleri in Sandur on Sandoy, Listasavnið á Sandi, was also a must. Several years ago, Sofus Olsen decided to build an art gallery in his home village of Sandur to display all the works he has collected during a period of some 50 years. He was born in Sandur, where his family had lived since the 16th century. For the same reason, he wanted to build the gallery in Sandur.
This is the story of the fisherman, who became an academic. Sofus Olsen (1913-2006), founder and benefactor, was a humble enthusiast with a passionate engagement in al his doings. This forced him "underground" in Denmark during the war, made him successful as a ship owner, and paved his way into responsible positions in the Faroes financial world, and on several government committees.
Sofus bought his first piece of art – a portrait of a girl by Ingálvur av Reyni – in 1961. Since then he has steadily built up his fine collection of oil paintings, bronzes, water colours, prints, sketches and ceramics. The gallery owns some 120 works by some 30 different artists. Pioneers in Faroese art, S.J. Mikines, Janus Kamban and Ingálvur af Reyni are particularly well-represented in the collection.
We took the ferry from Gamlarætt close to Kirkjubøur and visited Hestoy on our way to Sandur. Please always remember to check the opening hours of the museums on the Faroe Islands. If a local museum is closed the locals might help you to contact the people responsible, who might be willing to open the museum for you.
Never visit the Faroe Islands without a trip to the Art Gallery on Sandur, and a subsequent visit to the church in Húsavík, in which you find a wonderful alter piece painted by Sven Havsteen-Mikkelsen.