Williamshús, Thorshavn
---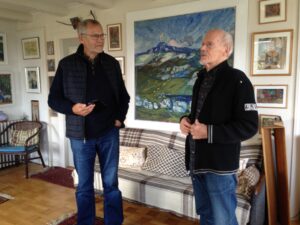 Apart from Listasavn Føroya, a visit to the Williamshús, William Heinesen Museum, is a must, in particular, if you can manage to convince his son, the painter Zakarias Heinesen, to guide you through his house.
Williamshús is the private residence and primary workplace of the Faroe Islands most famous writer, William Heinesen. The house is open to the public and has remained unchanged since Heinesen's death in 1991. The museum offers an interesting insight into the artworks and the unique interior of the house decorated by Heinesen and his son, Zacharias Heinesen.
On our way back from William Heinesens house, we visited the Finsen hall of residence in which you find Heinesens wonderful motives from the "Sigurd-kvadene" in the assembly hall.