Beaune market, August 2011 – Magne
---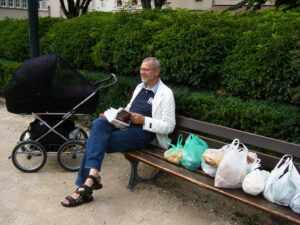 In the autum 2010 Gitte and Michael suggested to join us during our annual trip to Burgundy to visit new domains and collect our annual reservations of wine.
Being in due time, we managed to book a gîte for Friða, Gitte and Michael in Pernand Vergelesses, where we normaly are based. To introduce Gitte to the Beaune market starting early on Saturdays, we left from home Thursday and stayed overnight as usual in Metz, arriving at the hotel in Beaune Friday.
Rested and fit for fight we set off for breakfast on our way to the market Saturday morning. As you can see from the pictures, Magne volunteered to take care of Frida and find a base, where he could keep and watch over all the shopping bags provided by Gitte, Björg and Unnur. All but Magne agreed, that he had planned this in advance to get time to study Le guide de Bettane & Desseauve des Vins de France, which he had bought upon arrival!