Björg and Ulrik's hikings on Esjan and Hekla
---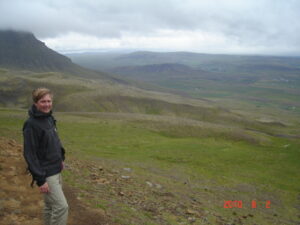 The mountain Esja (914 m) often called Esjan ("the Esja") is situated in the southwest of Iceland, about 10 km to the north of Iceland's capital city Reykjavík. Esja is not a single mountain, but a volcanic mountain range, made from basalt and tuff-stone. As you can imagine the view from the top is very impressing.
Hekla is a stratovolcano located in the south of Iceland with a height of 1,491 m. Hekla is one of Iceland's most active volcanoes; over 20 eruptions have occurred in and around the volcano since 874. During the Middle Ages, Icelanders called the volcano the "Gateway to Hell."
Hekla is part of a volcanic ridge, 40 kilometres long. However, the most active part of this ridge, a fissure about 5.5 km long named Heklugjá, is considered to be the volcano Hekla proper. Hekla looks rather like an overturned boat, with its keel being in fact a series of craters, two of which are generally the most active. The volcano's frequent large eruptions have covered much of Iceland with tephra and these layers can be used to date eruptions of Iceland's other volcanos. 10% of the tephra produced in Iceland in the last thousand years has come from Hekla, amounting to 5 km3. The volcano has produced one of the largest volumes of lava of any in the world in the last millennium, around 8 km3.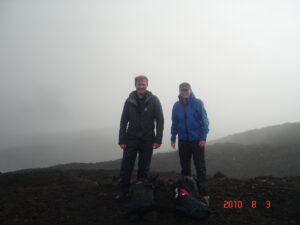 Unfortunately bad weather made the trip to its top very wet and troublesome, but unforgetable.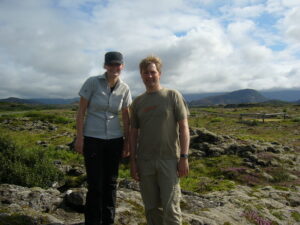 Heiðmörk was proclaimed a municipal conservation area of Reykjavík in 1950. It is located southeast of Elliðavatn, Iceland, and is about 9.7 km from the city of Reykjavík. The total area of the conservation area is 11 km2. It is a popular recreational area in Iceland. Heiðmörk is where Reykjavík's water reservoirs and drinking water wells are located. More than 4 million trees have been planted since 1950 and the existing vegetation has thrived since the area has been fenced off. The most prominent of the 26 species of trees at Heiðmörk is the Sitka Spruce and at least 150 wild flower species have been counted. More than 60 species of wild birds have been counted, especially around Elliðavatn and Myllulækjartjörn.
As you can se its a wonderful area for hiking!