Day 1, July 25th – Landmannalaugar
---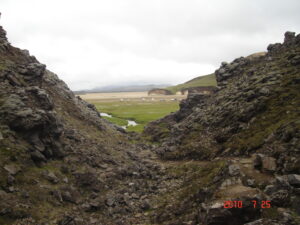 Landmannalaugar (Icelandic, meaning the people's pools) is a region near the volcano Hekla in tion of Iceland's highlands.
The area displays a number of unusual geological elements, like the multicolored rhyolite mountains and expansive lava fields. The many mountains in the surrounding area display a wide spectrum of colors including pink, brown, green, yellow, blue, purple, black, and white.
Two of the most popular mountains among hikers are Bláhnúkur (meaning "blue peak") and Brennisteinsalda (meaning "sulphur wave"). Unfortunately the weather did not allow us fully to enjoy the colours of the beautiful monutains.