Day 1, July 25th – Nýidalur
---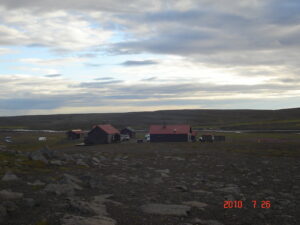 In the middle of the track through Sprengisandur are a few houses Nýidalur owned by the Icelandic Hiking Club.
Nýidalur is a valley on Sprengisandsleið (F26), south of the glacier Tungnafellsjökull. It is a frequent stop for travelers of the highlands.
We stayed overnight and were ready to continue at 6 aim where the water was lowest in the river near by.
However, the road across the river was closed and we were not allowed to continue until some two hours later. NO Info – No help, but unpleasant words to be obtained from the hosts representing the National Park!
Iceland has three national parks: Vatnajökull National Park, Snæfellsjökull National Park, and Þingvellir National Park.