Day 2, July 26th – Akureyri
---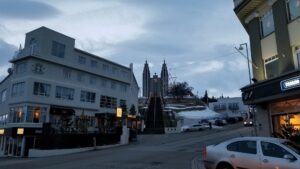 Akureyri is a city in northern Iceland. Akureyri is an important port and fisheries centre, with a population of some 17.500. Akureyri is Iceland's second largest city, after the greater Reykjavík area.
The area where Akureyri is located was settled in the 9th century but did not receive a municipal charter until 1786. The city was the site of Allied units during World War II. Further growth occurred after the war as the Icelandic population increasingly moved to urban areas.
The area has a relatively warm climate due to geographical factors, and the city's ice-free harbor has played a significant role in its history.
Unfortunately we did not have time to visit the small island, Hrísey, north of Akureyri, on which Unnur's mum was born. The apartment we rented was very recommendable and so were the fish we had for dinner.