Day 2, July 26th – Aldeyjarfoss and Goðafoss
---
Aldeyjarfoss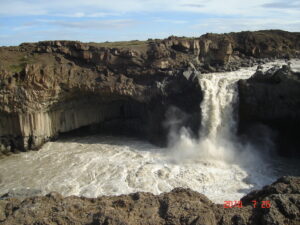 On our way to Aldeyjarfoss we still could see Vatnajökul to the South and north of it Askja appeared in the horizon. The Aldeyjarfoss waterfall is situated at the northern part of the Sprengisandur highland road. One of the most interesting features of the waterfall is the contrast between the black basalt columns and the white waters of the fall. In this, it is similar to the much smaller Icelandic waterfall Svartifoss in Skaftafell National Park. The river Skjálfandafljót drops here from a height of 20 m. The basalt belongs to a lava field called Frambruni or Suðurárhraun, hraun being the Icelandic designation for lava.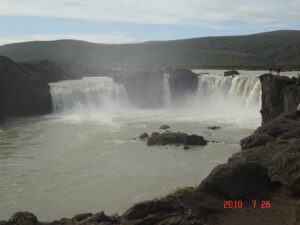 Goðafoss
Later on we arrived at Goðafoss. The Goðafoss (Icelandic: waterfall of the gods or waterfall of the goði) is one of the most spectacular waterfalls in Iceland. It is located in the Mývatn district of North-Central Iceland at the end of the Sprengisandur highland road. The water of the river Skjálfandafljót falls from a height of 12 meters over a width of 30 meters.
In the year 999 or 1000 the Lawspeaker Þorgeir Ljósvetningagoði made Christianity the official religion of Iceland. After his conversion it is said that upon returning from the Alþingi, Þorgeir threw his statues of the Norse gods into the waterfall. Þorgeir's story is preserved in Ari Þorgilsson's Íslendingabók.