Day 2, July 26th – Hrafnarbjargarfoss
---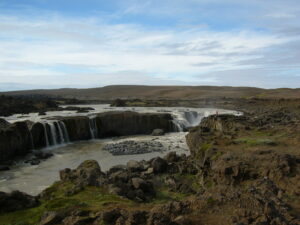 Hrafnarbjargarfoss in the highland east of Akureyri.
Hrafnarbjargafoss waterfall is one of the hidden secrets of Þingeyjarsveit County and is found a few kilometres further south in the same river.
From Aldeyjarfoss continue to drive along the same road you came in on (842). This road changes into a tertiary road, F-26, a so-called Fjallvegur or mountain road which is only accessible in summer. Continue until you get to a fence that leads down the hill to Íshólsvatn lake on your right hand side. Drive or hike in the opposite direction of the lake, alongside the fence until you'll reach the river where you'll find Hrafnabjargafoss waterfall.
Hrafnarbjargarfoss