Day 3, July 27th – Dettifoss
---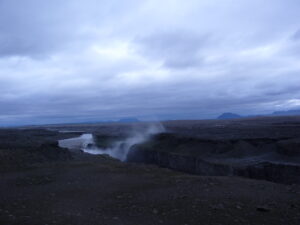 Dettifoss is a waterfall in Vatnajökull National Park in Northeast Iceland, and is reputed to be the most powerful waterfull in Europe.
It is situated on the Jökulsá á Fjöllum river, which flows from the Vatnajökull glacier and collects water from a large area in Northeast Iceland. The falls are 100 m wide and have a drop of 45 m down to the Jökulsárgljúfur canyon. It is the largest waterfall in Europe in terms of volume discharge, having an average water flow of 193 m3/s.
The waterfall can only be reached by a rough road. On the west bank there are no facilities and the view on the waterfall is somewhat hindered by the waterfall's spray. On the east bank there is an information panel maintained by the staff of Vatnajökull National Park (Vatnajökulsþjóðgarður) and a maintained track to the best viewpoints.