Day 4, July 28th – Fjalladýrð – Möðrudalur
---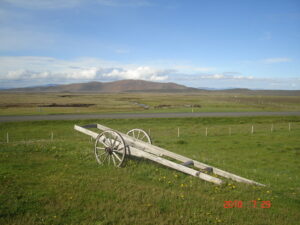 We stayed overnight in"Fjalladýrð" -"The Mountain Marvels" - of farm Möðrudalur located midway between Mývatn and Egilsstadir, on road 901, just 10 minutes drive from the ring road. From here you have a panoramic niew to Askja and Herðubreið.
Möðrudalur´s "Mountain Marvels" offer accommdation space for up to 27 people in made-up beds, single as well as double rooms. A camping ground is also at hand. Möðrudalur is a farm settlement in Norður-Múlasýsla in Eastern Iceland, and the highest inhabited place in the country, at 469 m above sea level. Möðrudalur is a popular tourist destination, and was formerly located on The Ring Road until the road was moved to its current Háreksstaðaleið route to the north of Möðrudalur.
The lowest temperature ever recorded in Iceland, -38.0°C was recorded concurrently in Möðrudalur and the neighboring Grímsstaðir on 21 January 1918.