Day 5, July 29th – Seyðisfjörður
---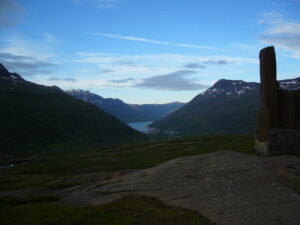 Seyðisfjörður is a village in the Eastfjords of Iceland, at the end of the fjord of the same name. A road over Fjarðarheiði mountain pass connects Seyðisfjörður to the rest of Iceland; 27 km from the ring road and Egilsstaðir.
Seyðisfjörður is surrounded by mountains on all sides with most prominent Mt. Bjólfur to the West (1085 m) and Strandartindur (1010 m) to the East. The fjord itself is accessible on each side from the town, by following the main road that leads through the town. Further out the fjord is fairly remote but rich with natural interests including puffin colonies and ruins of former activity such as nearby Vestdalseyri, from where the local church was transported.
The town of Seyðisfjörður is wellknown for its old wooden buildings. Seyðisfjörður also has a vibrant cultural scene with an arts centre, a telecommunications museum and the only two cinemas in the east of Iceland. The LungA art festival takes place in Seyðisfjörður in July.
There are several waterfalls in the town. A popular hiking path starts at the town center, following the East bank of the Fjarðará, the river that flows through the center of town. Further up the river there are 25 waterfalls. Every week the car ferry MV Norröna of Smyril Line comes to Seyðisfjörður from Hirtshals in Denmark and Tórshavn in the Faroe Islands.