Day 6, July 30th – Djúpivogur
---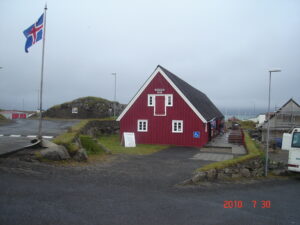 Djúpivogur is a small town located on a peninsula in eastern Iceland, near the island of Papey and on the fjord Berufjörður.
The town has an approximate population of 400 people. Fishing has been the primary engine for Djúpivogur's economy for centuries. In recent times, the tourism industry has blossomed and a hotel, restaurants, cafés, a campground and shops can all be found in and around the town.
The town is famous in Iceland for being the place with the highest temperature ever recorded in the island - 30.5°C in June 1939. Unfortunately, the weather had changed into heavy haze and rain during our visit, but we were left with impression of a very well organized society which took pride in clean and green surroundings.