Day 6, July 30th – Höfn i Hornafirði
---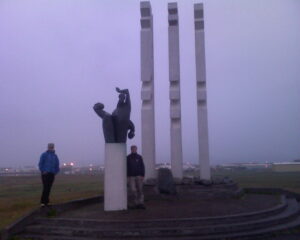 Höfn or Höfn í Hornafirði is an Icelandic fishing town in the southeastern part of the country. As of 2009, the population was 2,200. Höfn harbour is surrounded on three sides by the sea, with beaches on the long shoreline on the southeast. Sand bars and glacial rivers traverse this area with many shifting lagoons and sand reefs being formed. Höfn is surrounded by several small islands, the largest of which is Mikley, followed by Krókalátur and Hellir to the east of the town.
This harbour town, the second largest in the southeastern part of Iceland, gives scenic views of Vatnajökull (the largest ice cap in Europe by volume). To be honest we only came across outdated lobsters in a supermarket. In addition, we were very disappointed not being able to by fresh fish!!!
Again we were unlucky with haze and rain which did not allow us to enjoy the bery scenic nature surrounding Höfn. We certainly need to return and enjoy the scenic horizons of this area.
Nearby areas include Suðursveit (birthplace of Þórbergur Þórðarson), Öræfasveit, Lón, Mýrar and Nes. Svavar Guðnason (November 18, 1090 in Höfn - June 25, 1988 in Reykjavík) was an Icelandic painter. Another famous painter, Jón Þorleifsson was also born in Höfn.