Day 7, July 31th – Jöklasel on Vatnajökul
---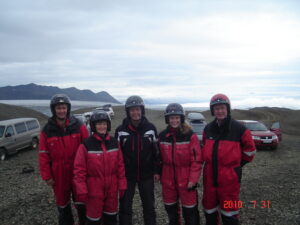 Ulrik, Unnur, Markús, Björg and Jöri
When we drove up to Jöklasel and the snowy glacier Vatnajökull we had no breathtaking views of deep vallyes, high mountains and of course, the great Vatnajökull itself. Fog and haze prevented all of that until we arrived at Jöklasel – the trip on Vatnajökull activated the adrenalin pump and left all with wonderful memories. Jöklasel, at an altitude of 840 meter above sea level, on Skálafellsjökull, one of Vatnajökull's numerous glaciers, approximately 55 km west of the fishing town of Höfn. Jöklasel is only 16 km from the main road. The last 6 km of the road require vehicles with four wheel drive. The view from Jöklasel is absolutely breathtaking as it is the highest restaurant in Iceland. You take in the magnificent view from the mountain tops to the open Atlantic ocean.
Vatnajökull - Glacier of lakes - is the largest glacier in Iceland. It is located in the southeast of Iceland, covering more than 8% of the country. With an area of 8,100 km² it is the largest ice cap in Europe by volume (3,100 km³). Greenland (and Antarctica) are ice sheets. On 7 June 2008, it became a part of the Vatnajökull National Park. The average thickness of the ice is thus 400 m, with a maximum thickness of 1,000 m. Iceland's highest peak, Hvannadalshnúkur (2,109.6 m), is located in the southern periphery of Vatnajökull, near Skaftafell National Park.
Under the ice cap, as under many of the glaciers of Iceland, there are several volcanoes. The volcanic lakes, Grímsvötn for example, were the sources of a large jökulhlaup (glacial lake outburst flood) in 1996. There was also a considerable but shorttime eruption of the volcano under these lakes at the beginning of November 2004. During the last ice age, numerous volcanic eruptions occurred under Vatnajökull, creating many subglacial eruptions. These eruptions formed tuyas, such as Herðubreið which was beneath Vatnajökull during the last ice age.