Fraser Island, Queensland
---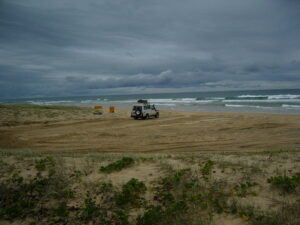 Fraser Island - stretching over 123 kilometres along the southern coast of Queensland - approximately 300 km north of Brisbane. Fraser Island with an area of 184.000 hectares is the largest sand island in the world. Fraser Island's World Heritage listing ranks it with Australia's Uluru, Kakadu and the Great Barrier Reef. Fraser Island is a precious part of Australia's natural and cultural heritage, it is protected for all to appreciate and enjoy.
Fraser island is a place of exceptional beauty, with its long uninterrupted white beaches flanked by strikingly coloured sand cliffs, and over 100 freshwater lakes, some tea-coloured and others clear and blue all ringed by white sandy beaches. Ancient rainforests grow in sand along the banks of fast-flowing, crystal-clear creeks.
Fraser Island is strictly four wheel driving territory. Seventy-Five Mile Beach is an actual highway that runs up the surf side of the island. Four-wheel-drives share the highway with planes making joy flights. Sand tracks cross the island linking lakes and rainforests.
Fraser Island is the only place in the world where tall rainforests are found growing on sand dunes at elevations of over 200 metres. The low "wallum" heaths on the island are of particular evolutionary and ecological significance, and provide magnificent wildflower displays in spring and summer.
The immense sand blows and cliffs of coloured sands are part of the longest and most complete age sequence of coastal dune systems in the world and they are still evolving. They are a continuous record of climatic and sea level changes over the last 700.000 years. The highest dunes on the island reach up to 240 metres above sea level. The Great Sandy Strait, separating Fraser Island from the mainland, is listed by the Convention on Wetlands of International Importance (Ramsar Convention).
Fraser Island was called K'gari by its Aboriginal inhabitants, it means paradise. The island shows evidence of Aboriginal occupation of least 5.000 years, although it is possible that further archaeological work may reveal evidence of earlier occupation. Early European reports indicated that Fraser Island was heavily populated by Aboriginal people, but subsequent research suggests that there was a small permanent population of 400-600 which swelled seasonally to perhaps 2.000-3.000 in the winter months, when seafood resources were particularly abundant.
https://www.fraserisland.net/