Karri trees (Eucalyptus Diversicolor)
---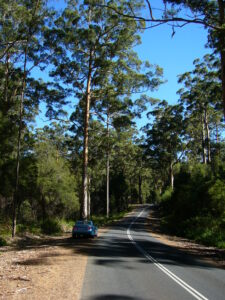 When in Pemberton you will be captivated by the magnificent Karri Forest. Explore among these giants, many which are over 400 years old. Feel at one with nature. Look in awe upon these majestic sentinels, the tallest trees in Western Australia.
Karri Trees – the tallest hardwood in the world.
The Karri Tree is a native tree unique to the southwest region of Western Australia and belongs to the family Myrtaceae. The name 'karri' is the Aboriginal word for the Eucalyptus Diversicolor. The tree can grow up to 80 meter, has smooth pink to silvery-grey bark and a straight trunk with heartwood of reddish brown. The bark of the karri sheds each year, resulting in a multi-coloured trunk. The leaves are dark green on the upper levels of the tree and gradually became paler on the lower levels. The leaves hang on branches in 'broccoli' shaped clusters. The tree produces barrel-shaped fruit. Birds such as the purple crowned lorikeets, harvest the pollen and nectar from the white flowers that bloom in the upper areas of the trees by using their brush-like tongues. These birds also assist in pollinating other forest trees. The karri tree grows in belts of rich gravel loam soils and thrives in areas of high winter rainfall. Karri is WA's tallest tree and one of the tallest hardwood trees in the world. The tree reaches its peak height within a hundred years.
The karri belts can be found in the Nannup, Manjimup, Denmark, Margaret River, Albany and Porongurup Range areas of Western Australia's southwest region.
Karri has many uses but is generally used for heavy construction but not for dock or harbor structures. Karri is used locally for plywood, furniture and woodchip.