France, Cóte du Rhóne/Cóte du Rhóne Village
---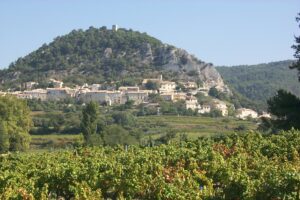 Geographically the Côtes du Rhône AC includes parts of the northern Rhône in addition to the southern Rhône, extending over six departements and some 100 km from north to south.
The vineyard area covers 44,735 ha, while its superior AC, Côtes du Rhône-Village only includes 3,662 ha. The maximum permitted yields include 50 hl/ha and 42, respectively for these ACs. While the generic Côtes du Rhône AC was accepted in 1937, it was not until 1966 that the full Côtes du Rhône-Village AC was established. A total of 16 communes are entitled to add their names to the Côtes du Rhône-Village AC, while no less than an additional 54 are entitled to use the AC without a village name. Only five red and four white grapes are allowed for the Côtes du Rhône-Village AC compared to 14 principal and 10 accessory for the generic AC. The finest reds include a high proportion of Syrah and Mouvédre, while the finest whites are based upon Rousanne, Marsanne and the delicate Viognier grapes.
As one can imagine, there is an ocean to choose from, and there is a world of difference between a Côtes du Rhône-Village Cairanne and an anonymous community's wine! This is hunting land for those who seek value for money, but how to track down skilled winemakers, who make quality wine from noble grapes and low yields? We have a clear preference for the wines from the village of Carianne, the top community of Côtes du Rhône-Village. They make wine of elegance and complexity rather than longevity. Several domaines like Chateau de Beaucastel (Coudoulet de Beaucastel), Domaine des Tours (Bernard Reynaud) and the Steinmaier family in St. Gervais (Domaine St. Anne) also take pride in their generic Côtes du Rhône, but they claim a corresponding price!