France, Northern Rhône
---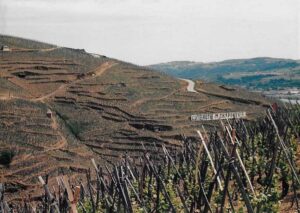 Vineyards of the Rhône strech some 200 km from Vienne to Avignon. Two separate areas exist: the northern Rhône (NR) between Condrieu south of Vienne and St. Péray, and the southern Rhône (SR) making up the rest. This area has held vineyards since Roman times, owned by hands – on workers.
Major differences exist between NR og SR. In many ways the NR is more similar to Burgundy than SR. Like Burgundy, plots are tiny, including many lieux-dits which are worked and announced with pride. The terroir is superb and even more complex than that of Burgundy. In addition, the best domaines are generally family owned. Like Burgundy grows the Pinot Noir at the northern limit of its ripening, so the NR has the Syrah at the northern limit of its ripening. To the north, apellations generally only allow a single grape, while the AC in SR permits a selection from which growers can choose and blend. In NR the Syrah grape dominates resulting in deep, long-lived red Hermitage, Côte Rôtie, Crozes-Hermitage, St. Joseph and Cornas. Excellent whites are made from the delicate Viognier in Condrieu, while a more muscular white Hermitage, Crozes-Hermitage, St. Joseph and St. Péray are made from Marsanne and Rousanne grapes. Differences in climate and topography also separate NR from SR. To the north steep terraces and hillsides and a continental climate have formed the growers, who might spend days repairing the slopes after heavy rain. Sitting on a tractor here is not a habit! In SR you find vineyards in a flat/undulating ladscape including cypresses, fields of sunflower and purple lavender, and houses with terracotta roofs in a Mediterranean climate.
ACs of the NR include Côte Rôtie, Condrieu, Chateau Grillet, Hermitage, Crozes-Hermitage, St. Joseph, Cornas and St. Peray, in addition to less interesting ACs. While men of the soil have dominated a modest past, new attention on NR came from Robert Parker, who called Marcel Guigal one of the best winemakers of the planet, and the progress since the 1980ies can be boiled down to Guigal and his international impact. As a result, areas under vine has increased significantly. However, quality has not followed, just as less dedication of the vigneron to their land has been observed – technique now dominating over terroir! In the early 1990ies the NR belonged to our hunting grounds. Since then prices have outstripped quality. Value for money has left us only with Hermitage, the prices of which also have reached a level where you look for alternatives.
An AC practically still unheard of outside the Rhône Vally is Cornas. Here you still find men of the soil, who take pride of their land and make very good, little exposed wines, priced with honesty.