France, Southern Rhône
---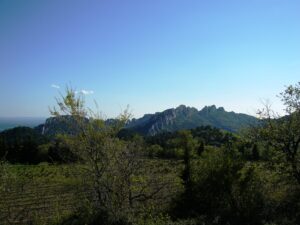 The cornerstones bringing exitement to our annual visits still include Chateuneuf du Pape, Gigondas, Vaqueyras and Carianne.
To most people the southern sector is known for producing a vast volume of low-priced, baseline, heady Côtes du Rhône of marginal interest, lacking finesse and complexity. However, this sector has many other wines to offer, particularly from its greatest appellations, but a series of very good, little exposed wines from the AC Côtes du Rhône Village might also be obtained. The SR strectches from south of Montélimar to Avignon. ACs of interest in the SR include Chateuneuf du Pape, Gigondas, Vacqueyras, Lirac, Tavel and Côte du Rhône Village. Differences separating these wines from those of the northern Rhône have been stated under northern Rhône. As for other regions, major diversity exists in styles, but final quality always depend on vine age, winemaking potential, individuality, and in particular, yield for high-cropping vines like Syrah and Grenache.
Both white – and red wines have improved significantly during the past decades. Including Marsanne, Viognier and in particular Rousanne have resulted in fresher and more rich whites, while improvements of the reds have come from increasing the content of Syrah and Mouvédre grapes, healthier grapes, destemming and attention to maximise extration of colour, tannins, aromas, and flavours, prudent use of oak, and earlier bottling to preserve fruit flavours and aromas.