Mâconnais
---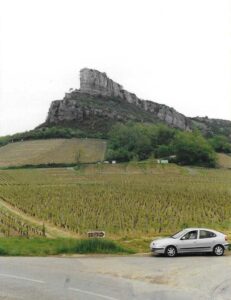 With a few exceptions this region was previously known for its cooperatives and mass-production of modest wine to be drunk as early as possible. Wine enthusiasts often sarcastically referred to the overpriced and most renoved appellation as "Pussy-Fussy" or "Pouilly-Fools". However, a new generation of growers are presently paving the way for barrel-fermented, complex wines from low yields, different from those of Côte d'Or. Things are, however, not yet rosy and a fair part of the production is therefore still declassified into Bourgogne Blanc, which might be easier to sell than Mâcon.
The vineyard area is slightly larger than that of Chablis and includes the following appellations: Mâcon, Mâcon plus village name (26), Mâcon-Villages, Pouilly-Fuissé, Pouilly-Loché, Pouilly-Vinzelles, St-Véran and Viré-Classé. With the exception of Mâcon (Chardonnay, Gamay and Pinot Noir), the other appellations include white wines only (Chardonnay). Single-vineyard bottlings are not pursued to the same extend as in Côte d'Or.
Visiting the stunning area of Mâconnais might start to the north in the village of Chardonnay, which might have given the famous grape variety its name. From here you simply follow the Route du Vin signs which takes you to the magnificent cliffs of Soultré and Vergisson, pastoral hillsides and the picturesque villages of Fuissé, Loché and Solutrè in the southern sector. A worldwide obsession with the Chardonnay grape has resulted in overproduction and less interesting wine. Instead of looking for "diluted" Mâcon-Village or overpriced Pouilly-Fuissé, you should look for a less known, but delicious Beaujolais Blanc or a Saint-Vérans, which are cheaper and significantly better than most Pouilly-Fuissés.
A good Mâcon-Village should be fresh and fruity with a creamy, applelike character. A good Saint-Véran is more concentrated, richer and riper wine, than the best Mâcon-Village. It can have a seductive, soft, creamy, apple-fruitiness. Marvelous wines also emerge from a growing number of producers of Pouilly-Fuissé. But who wants to pay a high price for mediocrity?