Carianne
---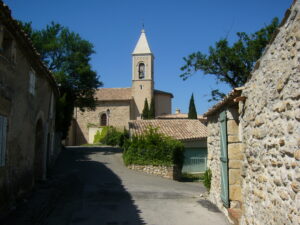 The villagein Vaucluse department of is set on top of a gently rising hillock, the old part of which is on the top of the hill surrounded by old ramparts which date back to the 12th century. A pathway along the ramparts, made by the Templar Knights, affords panoramic views of Mount Ventoux and Mont Saint-Andéol. Cairanne is easily visible for miles around on the surrounding plain.
Many wines of Carianne represent top quality of the Côtes du Rhône Village category, and it is very hard to understand why Cairanne has not yet received full appellation status like Gigondas (1971), Beaumes de Venise (1976/2005), Vacqueyras (1989), Vinsobres and Rasteau (2010).
The red Côtes du Rhone Village Carianne has to meet the following conditions: max 42 hl/ha, vines trained on low wires or en gobelet, min 12.5% alcohol and subjected analysis and control including tasting. Red wine includes min 50% Grenache, min 20% Syrah and or Mouvèdre and other grape varieties of the Appellation Côtes de Rhone (up to 20%). Our prime aim is selecting domaines seeking mouth-filling wine of elegance and finesse rather than muscles and longevity.