Chateauneuf-du-Pape
---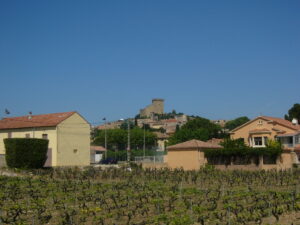 The village of CdP sits on a hillside encircling app. 3,300 ha of vineyard split between some 300 growers, most of which make and bottle their own wine. The solitary tower of the Papes summer residence, build by pape John XXII between 1318 and 1333, at the top of the village, makes up the local landmark. From here, you have a magnificient view with vines on all sides and the village below. The castle remained almost intact until August 1944, when German forces blew it up! The vineyards are bounded to the west by the Rhône and to the east by A7. It stretches some 15-20 km south-east from Orange.
Although red CdP by tradition has been dominated by Grenache Noir accounting for some 60% of plantings, a total of eight red and five white grapes for freshness are allowed, and a consensus among growers as to what proportion and blend of grapes makes an ideal CdP will never become a reality. All 13 varieties are allowed to be fermented together or separately. CdP derives an essential element of its character from being an assemblage of different grapes and terroirs, but grape variety has no logic. It represents what was most widely planted, when the AC rules were made.
A wide diversity of soil types exists, scattered throughout the appellation, and understanding the geology is essential to understanding its wine. The most characteristic feature of the area is the large smooth stones (galet roulés). These terracotta coloured stones, varying in size, are the deposits left by ancient Alpine glaciers. They add to maturity by absorbing the heat during daytime and giving it back after sundown. Due to the existence of distinct soil types, growers are happy to have their wine spread out in different parcelles.
Planting density is only 1/3-1/2 of that of Hermitage, and yields are restricted to 35 hl/ha. Only manual harvest is allowed, and a minimum of 5% of each years crop is discarded. Triage is obligatory. These days a common red mix includes 50-70% Grenache, 20-30% Syrah, 10-20% Mouvédre and a splash of the minor varieties, but flexibility results in a wide diversity from virtually 100% Grenache to using all 13 permitted grapes, and typicity does not exist. The same is valid for vinification. This means you might always come across a CdP which please your taste!
White CdP, which accounts for 5-8% of the toal production, comes from any or all of Grenache Blanc, Clairette, Rousanne, Bourboulenc, Terret Blanc and Picardin. Major improvements have resulted in a fresher style, but with a few exceptions these wines are ment for early drinking. Although major progress has been made, too much indifferent wine comes into the market compromising the efforts of those dedicated to quality. A fashion for superior cuvées, representing a selection of better lots or older vines might also diminish the quality of what remains! In addition, we are also left with the impression that some put everything into top labels, and prices have increased significantly.
For these reasons, our interest in CdP has dereased with one exception: Domaine Clos Mont Olivet, run by the Sabon brothers, Jean-Claude, Pierre and Bernard. This is the place were you get value for money.