Wines of Western Australia
---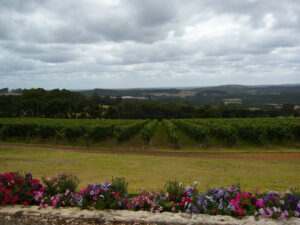 The wines of Western Australia have a short history and vieilles vignes are very rare compared to Europe. The WA wines include the regions of Swan, Perth Hills, Peel, Geographe, Margaret River, Blackwood, Manjimump, Pemberton (Pemberton has become synonymous with wines of an extraordinary quality and is often compared ot the Burgundy region of France. Pemberton boasts many gold medal wines and Gold Plate awards, and holds the mantle of being the most awarded tourism town in WA) and Great Southern. The Great Southern – subregions include Frankland River, Denmark, Mt. Barker, Porongurup and Albany. This is a huge area including thousands of wineries, and it is very difficult to get an overview on the web.
As a foreigner you should bring Ray Jordan's "Guide to the Wine of Western Australia" designed to help the wine tourist to get on the road and visit the cellar door. Although you might have your favourites do no miss the tight and crisp Semillon Sauvignon blanc, a WA brand in its own right. A strong focus on premium wine with the accompanying reputation for quality, has added to a healthy reputation of WA wine.
On my way to visit the Potteroo Project at Two Peoples Bay I had the opportunity to pass and visit Margaret River, Pemberton and Denmark.