Domaine Bachelet, Gevrey-Chambertin
---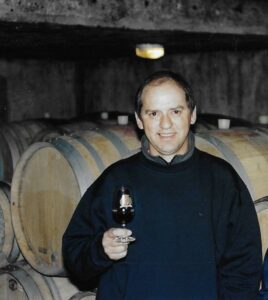 This is a top rank, but tiny domaine (4.3 ha) headed by Denis Bachelet. When Denis Bachelet took over his grandparents domaine in 1983, it only covered some 1.8 ha, not much, but old vines in prime land, and he had to start from scratch, since there was no equipment and cellar left. Subsequently, Denis Bachelet has more than doubled his land possessions. In 2009 his only son, Nicolas, joined him.
The Bachlets are very talented, ambitious and highly motivated winemakers, paying attention to details in as well the vineyard as the cellar. They own some very old and low-yielding vines, and each year some 200 vines per ha are replaced due to disease, natural decrepitude, or mechanical damage. Inherited traditions are kept and improved. Neither pesticides nor herbicides are used. As little intervention as possible is made in cellar. Total destemming and a light crushing is followed by cool maceration, before fermentation (max 32-33°C). When sufficiently structured, the wine is run off and left to settle, before being transferred into casks. One third new oak is used for his GC, 1er Cru and village wines, while his Côte de Nuits village only sees 25% new oak. Vineyard holdings include Charmes-Chambertin (average age 90 years) (GC), Gevrey Chambertin les Corbeaux (PC), Gevrey Chambertin Les Evocelles, Gevrey Chambertin lieux-dits Dérée, Sylvie, Les Jeunes Rois, La Burie and La Justice (village), Côte de Nuits Village, Bourgogne Rouge and Bourgogne Aligoté.
Splended wines are to be obtained from here, in particular their highly seductive Charmes-Chambertin and the more virile Les Corbeaux, both of which age well.
We have been regular clients here and enjoyed all their reds during many years, but exploding prices prevent us from being a regular customer any longer.