Domaine Cachat-Ocquidant, Ladoix Serrigny
---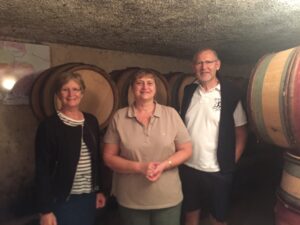 As stated under the domaines Maratray-Dubreuil and Jean-Pierre Maldant, Ladoix-Serrigny has been overshadowed by the more famous villages on the Côte d'Or. However, it is still a good hunting ground for good value for money burgundies.
Domaine Cachat-Ocquidant includes some 11 ha placed in Ladoix, on the Corton hill, Aloxe-Corton, Chorey, Savigny, Pernand and Meursault. The majority of wines made by Jean-Marc Cachat and his son David are red. To meet the demands from clients, they are replacing Pinot Noir with Chardonnay in Ladoix. In addition, they have been exploiting some 14 ares of vielle vignes in the Grands Charrons in Meursault since the millésime 2014, and millésime 2015 was selected as la meilleure bouteille (18/20) in Bourgogne Aujourd'hui, 2016 no. 130.
In addition to the Grands Charrons white wines include Ladoix, Pernand Vergelesses, and Bourgogne Chardonnay and Aligoté.
Bourgogne Pinot Noir, Bourgogne La Chapelle, Chorey les Beaune, Ladoix, Ladoix Les Madonnes vieille vignes, Savigny les Beaune vieilles vignes, Aloxe-Corton, Aloxe-Corton 1er Cru, and Corton Clos des Vergennes GC (monopole) make up their red wine production.
The family cultivate their lieux-dits with respect for the terroir using experiences obtained through generations, and aiming for mature and healthy grapes. Harvest by machine followed by une table de tri and traditional vinification. Elevage similar for village, 1er Cru and GC (11 months). "Après, c'est le terroir qui fait la difference", states Jean-Marc Cachat.
Impressive wines are offered at a good price/quality ratio. The most complete wine in the cellar is surely the GC Clos de Vergennes, a rich and powerfull wine of great complexity and length. However, they also make excellent Chorey les Beaune and Savigny les Beaune vieilles vignes. Our selections have so far only included their reds, but we look forward to including their whites.