Domaine Collotte, Marsannay
---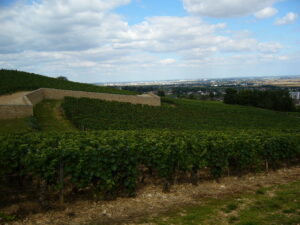 Although Marsannay has a long record of wine production with ups and downs, the vignerons did not convince the INAO that they were entitled to their own AC until 1987. Subsequently, growers started capitalizing on their hard-won appellation, and there is still an ongoing debate on the question, whether some favoured sites merit PC status! The Marsannay AC includes land in Chenôve, Marsannay La Côte and Couchey.
The geology of the Marsannay slopes is complex and so is the microclimate. Although gaining in strength from North to South, the Marsannay reds are generally light without much backbone. However, in good vintages, when the fruit is allowed to sing out, it is an agreeable, fruity wine for early drinking. In good years, the whites have a crisp, fruity leanness. The Marsannay Rosé, invented by Joseph Clair, is made by pressing of Pinot Noir and vinification "à gris", ie pulling the juice off the skins after several hours of contact. It can be among the best dry rosé wines of France.
Since 1987, Marsannay has been gaining greater recognition, and many Gevrey-Chambertin growers have purchased land and expanded in the village, all of which has resulted in prices above the best of Côte de Nuits village! Coming across fairly priced red Marsannay can therefore be a difficult task.
Domaine Collotte was established by the present owners grandfather, who in addition to vineyards also grew other crops. His son, Philippe Collotte, however, was only interested in wine production, and have subsequently extended their vineyards significantly, totaling 17 ha in 2017. Philippe's daughter, Isabelle, joined her father in 2013. Most vineyards are in and around Marsannay, including as well red, white, rosé as reginonal appellations. There is also a red and white Fixin and red Gevrey Chambertin and Chambolle Musigny.
Red Marsannay includes an old vines cuvée and five single vineyards wines: Les Champsalomon, En Comberau, Les Boivins, Le Clos de Jeu, and Les Grasses Têtes.
The Marsannay appellation covers three different communes resulting in very different wines. The domaine aims at making wines reflecting their terroirs, and therefore focus on their work in the vineyards to allow as little intervention as possible during vinefication. A larger and more modern and functionelle winery is planned for the vintage 2019.
The domaine also has small holdings in Gevrey Chambertin (En Champs and from 2017 one parcel in Les Evocelles) and Chambolle Musigny (Les Échanges, Les Herbus, Les Athets and Les Chardannes, all of which were planted in 1955).
This is a fine Place to learn more about the wines of Marsannay in all colors.