Domaine Drouhin-Laroze, Gevrey Chambertin
---
Y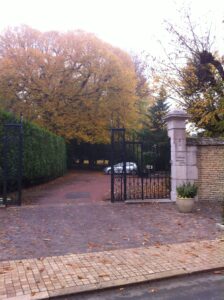 ou find Domaine Drouhin-Laroze on your right at the end of the one-way rue Gaizot, right in the middle of Gevrey Chambertin. A very impressive entrance takes you into a small park, in which their private buildings, winery, cellars etc. are beautifully placed. You might get the impression of entering a chateau in Bordeaux, but don't worry, here you are cordially welcomed "dans la grande tradition de l'hospitalité bourguignonne" by the family Drouhin.
The estate was started in 1850 by Jean-Baptiste Laroze, and is presently run by the 5th generation, Philippe and Christine Drouhin, assisted by their children, Caroline and Nicolas. Thanks to a tradition of investing in vineyards, the domaine presently includes 11.5 ha including six different grand crus: Chambertin Clos de Beze (1.39 ha), Chapelle Chambertin (0.51 ha), Latricières-Chambertin (0.67 ha), Bonnes mares (1.49 ha), Musigny (0.12 ha) and Clos de Vougeot (1.03 ha).
Thanks to them, some 40% of today's vineyards are GC. The rest includes four 1er Cru in Gevrey, (Craipillot, Au Closeau, Clos Prieur, and Lavant St. Jacques) and Chambolle Musigny 1er Cru Les Baudes, in addition to village Gevrey Chambertin (eight different parcels), Morey St. Denis, and Chambolle Musigny. Finally, Caroline Drouhin took the initiative to establish a negoce company in 2008: Maison Laroze de Drouhin, which offers Charmes Chambertin GC, Mazoyères Chambertin GC, Gevrey Chambertin Les Grandes Rayes, Nuits St. George La Charmotte, Gevrey Chambertin, Bourgogne Pinot Noir and Bourgogne Chardonnay.
Changes seem to have been ongoing for some time, with Nicolas taking over more and more responsibility. The wines have become more stylish, fresher and more terroir-driven. The domaine still uses 20%, 40% and 80% new oak for their village, 1er Cru and GC wines, respectively, but the barrels are now only low-toasted rather than medium toasted. In addition, an increasing per cent whole bunches are used, depending on the quality. This means that the philosophy of the domaine "to allow the vine and the terroir to express themselves, and to respect traditions whilst adapting to modern techniques" has become more meaningful!
Wine tastings are not an option here, but Madame Christine Drouhin might offer you the possibility to join one of her weekly lunches cooked by herself, and including dishes going well together with their wines, available in half bottles, so you can buy and taste their wines. Lunch is served in perfect surroundings with a view to the surrounding park, which also includes a small vineyard. This is a highly recommendable domaine.
Bettane & Desseauve (Guide des Vins 2019) "sommes sûrs, que les petits règlages, que restent à faire pour retrouver la plus haute qualité possible, ne vont par tarder", Clos de Vougeot 2016, Clos de Bèze 2016 and Chapelle 2016 receiving the scores 18/20, 17/20 and 16/20, respectively. Millésime 2017 also scored high ratings on Burghound.com (89-94 for their GC).
Selecting among their GC is as difficult as selecting among your own children, so, of course we go for them all!