Domaine Eric Boussey, Monthélie
---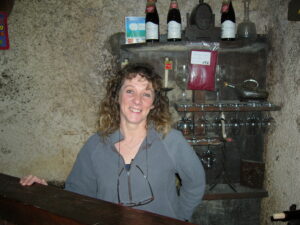 Monthélie is one of the most charming and photogenic villages of Côte d'Or. It sits on a hill overlooking Volnay, Meursault and Auxey-Duresses. However, it has never enjoyed the reputation of these villages! The Monthelie 1er Crus were extended from 11 to 15 as recently as 2006, when Les Clous, Le Clos de Toisières, Le Clou des Chènes and la Barbiere were promoted from village status to 1er Cru.
We always make a stop at the turn of RN73 and enjoy the panoramic view towards Auxey-Duresses. Our first tastings goes back to the late 1980ies, when the winemakers of the village tended to produce rather rustic and coarse wines lacking finesse and charm. Our renewed interest comes from a visit during the spring of 2011 to the cellar of Pascal Mure, Volnay, who also makes Monthélie, emphasizing fruit, elegance and charm rather than power and tannin. Domaine Eric Boussey was created in 1981 when Eric and his brother split their mother and fathers domaine, their mother having vines in Volnay and Pommard, while their father had vines in Monthelie and Meursault. Today domaine Erik Boussey covers vines placed in eight villages in Côte de Beaune. The vineyards are subjected travaille en lutte raisonnée and vinification is traditional, and les vins sont légérement filtrés enfin de garder leur caractére et typicité. Les vins rouges include Volnay 1er Cru Taillepied, Monthélie 1er Cru Clôu des Chénes and Les Riottes, Auxey Duresses Climat du Val, Monthélie Les Toisieres, Pommard, Hautes Côtes de Beaune and Bourgogne Grand Ordinaire. Les vins blancs include Meursault Limozin, Monthélie La Combe d'Anay, Santernay, Saint Romain, Bourgogne Chardonnay and Bourgogne Aligoté. The average age of the vines ranges from 15-100 years. Eric Boussey makes wine for keeping (taillés pour la garde) which do not open up until some five years of cellaring, "à rebours de la mode"!
Our picks from the cellar include Meursault Limozin and Volnay 1er Cru Taillepied. We will certainly keep our eyes open and follow the new generation of vignerons in this beautiful village.