Domaine Gilles Bouton et Fils, Gamay
---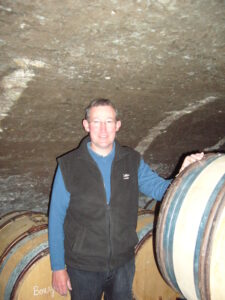 Only a few kilometrs from its mighty neighbours, Puligny – and Chassagne Montrachet, you find the vignoble of Saint Aubin which also comprises Gamay, nestling between the famous village of Chassagne Montrachet and Saint Aubin. Saint Aubin/Gamay houses several talented and ambitious growers. Due to high levels of quality and fair prices, this was the place to buy a poor man's Puligny-Montrachet. However, price levels have been under the rise during the past decades! According to our experience, the best values for money in Saint Aubin and Gamay are Gérard Thomas et Filles, Gilles Bouton et Fils, and Sylvain Langoureau.
Vineyard holdings of the family Gilles Bouton et Fils include 16 ha with 8 ha owned by the family and the rest sourced from a mix of contracts. 80% are white, including Mersault la Jeunelotte (PC, blanc), Puligny-Montrachet la Garenne and sous le Puits (PC, blanc), Saint Aubin les Murges des Dents de Chien, – la Chateniére, – en Remilly, and les Champlot (PC, blanc), village Chassagne-Montrachet les Voillenots dessous (blanc) and Saint Aubin les Argillers (blanc), in addition to Bourgogne (blanc) and Bourgogne Aligoté. The reds include Saint Aubin en Créot (PC) and les Champlot (PC), Blagny sous les Puits (PC), Chassagne-Montrachet les Voillenots dessous (village), Bourgogne and Bourgogne Grand Ordinaire.
In the Vineyards a lutte raisonnée is practiced, and his vineyards are home to many old vines.
Most vines are harvested by machine to "permet de récolter les raisins lorsqu'ils sont parfaitement mûrs, parcelle après parcelle", not to save time! Barrel fermentation for eight months is followed by two months in cuves before bottling. Gilles Bouton do not like heavy wines. He aims for freshness and finesse. A good price/quality ratio is to be obtained from this family domaine joined by Gilles Bouton's son, Julien, in 2009.
Our pick from the cellar include les Murgers des Dents de Chien and Chassagne-Montrachet les Voillenots dessous, but his Remilly and Chatenière are also splendid. At the end of the day, it's the vintage that determines the selection here.