Domaine Hubert Chauvenet-Chopin, Nuits Saint Georges
---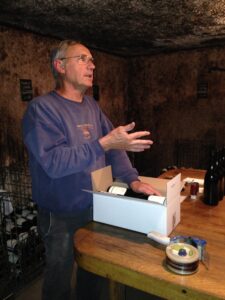 One of our greatest moments in Burgundy dates back to the early nine-ties. Anthony Hanson had inspired us to make a rendezvous with the enthusiastic grower, Daniel Chopin-Groffier, a top producer of Burgundy according to our taste, the winemaking skills of which we have not yet come across subsequently. Still clearly remember our first meeting in the kitchen, where his wife was cooking his lunch. His house and old cellar was tucked into the small rue Claude Henry in Comblanchien.
Here, one did not have to seek out GC/PC, even the Bourgogne rouge tasted wonderful. He used 50% new oak and followed the principles of Henri Jayer of 3-4 days cold maceration prior to fermentation. 70% of the grapes were destemmed, and his cuvaison lasted some three weeks. The vines included a high percentage of very old vines. Vineyard holdings included Clos de Vougeot (GC), Nuits-St-Georges Chaignots (PC), village Vougeot, Chambolle-Musigny and Nuits-St-Georges, Côte de Nuits-village, Bourgogne rouge and blanc. Our pick from his celler included the brilliant and structured Clos de Vougeot, the pure and fruity Vougeot and the well-made Côte de Nuits-Village.
Hubert Chauvenet married Daniel's daughter, Evelyne, and in 1997, when Daniel Chopin-Groffier retired, the domaines of Huberts father, Marcel Chauvenet, and his father-in-law were merged, adding Nuits-St-Georges Aux Argillas (31a,PC), - Les Murgers (41a,PC), - Aux Thorey (52a,PC), in addition to Nuits-St-Georges village and Bourgogne Aligoté. From 1997 to 2000 part of the crop was labelled as Domaine Chopin-Groffier and part as Domaine Chauvent-Chopin, athough the wines were identical. From 2001 everything was named Chauvenet-Chopin.
Particular attention is given to vineyard work to control yields, including a strict guyot pruring, spring ébourgeonnage, vendanges en vert and effeuillage manuel. Vinification depends on the millésime but normally includes destemming, a short cold maceration and fermtation at 30-32°C for 10-12 days. No fining and filtration before bottling in Februar/March, some 18 months after harvest. 20-60% new oak, depending of the wine. All Hubert's Nuits PC are on the Vosne-Romanée side of Nuits, sharing some of the richness and elegance of the Vosne wines.
It is generally accepted that the finest PC of Nuits are those south of the town. Having tried hard, we still find these wines too robust, lacking the charm and complexity of those north of Nuits. We still prefer Les Caignots (39a, PC), a sort of hybrid between the wines south of Nuits and those of Vosne. The Vougeot (40a, PC), which comes from a plot of vines within Les Petits Vougeots, situated next to Chambolle-Musigny Les Amoureuses, is all what we appreciate, a splendid, fruity, seductive wine, which now is a PC: Vougeot 1er Cru Les Petites Vougeot. The Clos de Vougeot (35a, GC) also belongs to our favorites, due to its balanced, complex, mouth-filling fruit. These vines have now passed an age of 60 years. In conclusion, you find a high quality and fair prices at Domaine Chauvenet-Chopin. However, first and foremost, this is a very fine address for Nuits St. George Les Caigenots and Nuits St. George village Charmottes agée plus de 60 ans, in addition to Vougeot 1er Cru Les Petites Vougeot and GC Vougeot.