Domaine Jérome Castagnier, Morey Saint Denis
---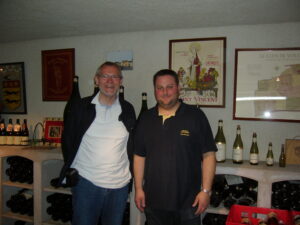 Vineyards of this domaine has come down the female line from Odette Ramau, wife of Gilbert Vadey, who bought several well-situated Côte de Nuits parcels after World War II. Their son-in-law, Guy Castagnier, subsequently took over the reines. When his son, Jérôme, joined his father in 2004 the domaine became EARL Domaine Castagnier. Finally, Jérôme took over from his father in 2007 as the 5th generation to run the estate. Jérôme saw another side of life as a trompeter in the Elysée Palace Orchestra before returning to conduct the family domaine in 2004. In addition, he attended Le Viti in Beaune in 2004 before he joined the historic 2005 vintage. Guy Castagnier, who continued to keep a watchful eye on the domaine until his death in 2012, was known for making very expansive, ripe, opulent, generous wine with plenty of fruit and flavour ment to be consumed within 7-8 years of the vintage.
The vineyards are magnificent including four Grand Cru (Charmes-Chambertin, Clos de la Roche, Clos Saint Denis, and Clos de Vougeot). Village AC include Gevrey-Chambertin Les Seuvrées, Morey Saint Denis Aux Cheseaux, most of which comes from the PC section, and Chambolle Musigny. Finally, he also makes generic Bourgogne Passetoutgrains. Most vines are old or very old, the oldest dating back to 1934 (Chambolle Musigny).
This is a small domaine (5.5 ha) and to meet an increasing demand the domaine also has negociant holdings under a separate label based upon metayage and bought grapes. Viticulture en lutte intégrée. Manual harvest with strict selection in the vineyard. All fruit is normally destemmed and no more than one third of the barrels for aging are new. Wines are racked twice after the malo. No fining and no filtration. Jérôme states that "mon principe, c'est de ne pas avoir de régles"!
Our attention to the domaine comes from the philosophy of Jérôme "qui refuse de faire flamber les prix de la bouteille, faisant du vin de Bourgogne un produit de trés grand luxe inaccessible aux gens du peuple". Becoming a client here therefore might be compared with winning in lottery. Thanks to a Japanese importer, who cancelled his 2010 reservations, we were offered some bottles of his Clos Saint Denis and Clos de Vougeot. Subsequent visits demonstrated a very busy vigneron. The employment of Jean-Claude Briottet as chef de culture, however, must have been a relief, leaving him with more time for clients. Il a le sens de l'accueil au domaine, dans la grande tradition de l'hospitalité bourguignonne. Great ratings for millésime 2016 (16-18/20!) by Bettane & Desseauve in Guide des Vins 2019.
We look forward to a new rendez-vous!