Domaine Marchand Fréres, Gevery-Chambertin
---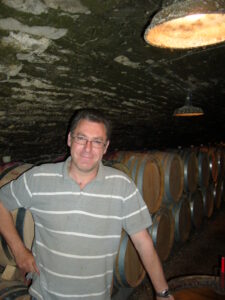 The Marchand estaste dates back more than seven generations in Morey Saint Denis. In 1983 the eldest son of Claude Marchand, Jean-Philippe, bought an old vine grower's house in the heart of Gevrey-Chambertin and set up on his own. He also operates as a négociant company.
Since 1999 Denis Marchand, Claude's second son, has taken over from his father. The Marchand estate includes vineyards located in the villages of Chambolle Musigny, Morey-Saint-Denis and Gevrey-Chambertin. GC vineyards include Griottes-Chambertin, Clos de la Roche and Charmes Chambertin, while first growths include Les Sentiers (below Bonnes Mares) in Chambolle, Clos des Ormes (below Clos de la Roche), Les Faconniéres, Les Millandes, and Les Genavriéres (above Clos de la Roche) in Morey, and Les Combottes (between Latrícieres and Clos de la Roche) in Gevrey. All village wines are Vieilles Vignes, the average age of which varies between 50 and 70 years, while the average age of GC varies between 50 (Griotte), 55 (Clos de la Roche) and 75years (Charmes).
With the exception of a long cold maceration for 10-12 days, winemaking is traditional. Yield: 38 Hl/ha for GC and 40-45 Hl/ha for village wines. They also make Morey Saint Denis blanc (Le Tres Girard, below Clos Sorbé) from very young vines.
Having looked for affordable bottles of Griottes Chambertin (GC) for a long time, we finally came across Domaine Marchand Fréres in Gevrey Chambertin, who was said to make wine of femininity and elegance rather the weight and muscle!
Griotte Chambertin (2.73 ha, average production (12,000 bottles!) takes its name from its shape (see picture), a concave bowl, trapping the sun so much it's like a grill (grillotte) according to R. Norman & C. Taylor! The wine, however, can be sublime. The tannins are always soft with gentle acidity and a harmonious seductive taste.
Although our rendezvous was confirmed in advance, the owner did not show up, however, his mother in law called him and he showed up some 30 minutes later. A great moment it was when we tasted 2010 Griotte Chambertin from barrel, all our expectations were met, and although all 2009 GC were sold out he managed to find a magnum of Griotte and 3 bottles of Charmes. However, here one does not have to seek out GC/PC, all his 2009 village vieilles vignes were exceptional good according to our taste, dominated by fresh fruit balanced by gentle acidity and soft tannins. A very important bonus, his wines were not that expensive so far! A very recommendable domaine, but you will have to make reservations. Subsequently, we have visited the domaine to follow and extend our knowledge of its wines. To be honest, we find the wines somewhat over extracted and unbalanced even after some 10 years in the cellar. Things might, however, have changed here since our last visit!