Domaine Michel Caillot, Meursault
---
The domaine only dates back to 1962, when Roger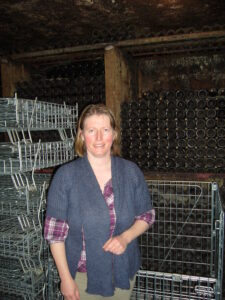 , the father of Dominique and Michel, founded the domaine. Michel joined his father in the late 1980s and took over elevage in the mid 1990s. Under his reign the domaine stoppped using fertilizers and pesticides and now practices organic agriculture. Yields are kept how (25-40 hl/ha) through pruning and green harvesting. In the cellar Michel is a non-interventionist, aiming at letting the individual character of the different vineyards to show through.
Fermentation of reds is carried out with whole bunches of grapes and natural yeasts. Little or no SO2 is used, CO2 being used as an antioxidant. The whites are generally aged in 30% new oak barrels and kept on their lees as long as possible, and only racked once before bottling. The whites are fined, but not filtered. The 1er Cru and GC get 50-70% new barrels. The reds are aged in 30-60% new barrels and are neither fined nor filtered. The estate includes 13 ha owned and en fermage/métayage. The pearls are in Puligny (Les Folatiéres and Les Pucelles in addition to Bâtard Montrachet, shared under a metayage agreement with the Poirier family).
The white villages include Meursault, Meursault La Barre Dessus, Clos Marguerite, Clos du Cromin, Tessons and Limozins, in addition to Santernay. Finally, the domaine also makes generic whites including Aligoté and Bourgogne Blanc Les Herbeux. The reds include generic Bourgogne, Village Monthélie and Pommard, in addition to PC Beaune Les Avaux, Volnay Clos des Chênes, Pommard and Pommard PC Les Grands Epenots. Seven ha of white and six in red, the age ranging between 20 and 65 years. The domaine is mainly known for its, whites, but also makes fairly priced supple, lush reds.