Domaine Olivier Jouan, Arcenant
---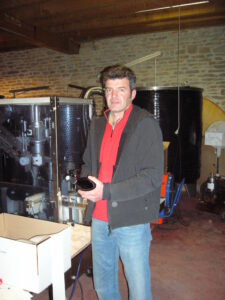 After completing his studies at the Lycée Viticole in Beaune, Olivier Jouan returned to the family domaine in Morey St. Denis representing the 6th generation. Needing space for production, he moved the domaine to Arcenant, nested into the Hautes Côtes de Nuits. This is a one-man operation, and if you want to make an appointment for tasting and buying his wine, you can find him in the vineyard or cellar, or try his mobile! Olivier took over the vines of his uncle Michel in 1999, and has subsequently extended the estate since he moved to Arcanant in 2002. The domaine includes a total of 7.65 ha including GC Charmes Chambertin (0.4 ha), two Morey St. Denis ler Cru vielles vignes: "la Riotte" (0.3 ha) and "Les Ruchots" (0.3 ha), 0.5 ha Chambolle Musigny "Les Bussiéres" planted in 1951, 1961 and 1976, 0.24 ha Morey St. Denis "Clos Solon", in addition to 5.5 ha Hautes Côtes de Nuits.
Olivier Jouan takes pride in his work in the vineyard, where he aims at limiting yields and maximize the expression of each individual terroir. Although he works his vines organically, he has no interest in attaining any bureaucratic validation. Manual harvesting, a strict triage, and a three-weeks cuvaison for maximum extraction is followed by élevage in a combination of new, second and third-year barrels depending of the millésime. Minimal racking and no fining or filtration. It only takes a few minutes to understand the respect and passion Olivier Jouan expresses as to his work in the vineyards. Winemaking is about producing healthy grapes, while vinification is about understanding and utilizing the quality of grapes available.
Our first meeting with Olivier Jouan came up as one would expect. He did not respond to our letters because he was busy, so we "caught" him working preparing for the harvest. However, he cordially invited us for a tasting starting with his remarkable Hautes Côte de Nuits vielles vigne and continued with his "Clos Solon", demonstrating both depth and complexity. His Chambolle Musigny "Les Bussiéres" bordering Morey St. Denis ler Cru "La Bussiére" demonstrated typical terroir. A powerful, but elegant wine. Finally, we tasted his ler Cru "La Riotte" vielles vigne, a grand vin taillé pour la garde. This is certainly a highly recommendable domaine, and we very much look forward to tasting and buying his dark and impressive wines. We prefer Les Ruchots, a magnificent wine translated from his low yielding vieilles vignes.