Domaine S.C. Guillard, Gevrey Chambertin
---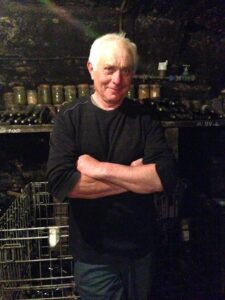 To most people Gevrey Chambertin evokes expectations of magic and prestigeous wines. Its vineyards extend to more than 500 ha, including nine GC and 26 PC. The village vines extend on both sides of RN74 and further into the plain than in other communes of Côte de Nuits. Soils and microclimates of Gevrey also demonstrate a diversity and a complexity higher than elsewhere in Côte de Nuits.
With the exception of village wines, bargains are very rare here. Although 69 individual vineyard names might appear on a label for village Gevrey, the growers rarely use them, because their Gevrey Chambertin are blends from several climats. Due to the high diversity mentioned above, the quality of village Gevrey Chambertin is variable, but the name of the producer and climat might help you to find wines of great quality!
Having passed the house of Michel Guillard and his sister Odette in the center of Gevrey several times, wondering why almost no marketing of wines was visible, we decided to seek an explanation! Perhaps we were dealing with an old school vigneron similar to Daniel Chopin-Groffier, with whom we had one of our greatest moments in a burgundy cellar (See domaine Hubert Chauvenet-Chopin). Getting in touch with Michel Guillard was not an easy task, but we managed to make a rendez-vous at the end of August 2013.
It was Michel's grand mother, born in 1882, who created the domaine. She worked hard as a house cleaner and saved enough money to buy her first vines in 1913. Meanwhile, she had married, but her husband had to go to war, and when he returned, he had to work as a labourer for other domaines in Gevrey. In 1937, they were able to buy their first PC land in Les Corbeaux. When their only daughter and her husband, André Guillard took over the domaine in 1958, they still had to have a second job to sustain the family business. Upon retirement of their parents in 1979, Michel and his sister Odette took over the domaine.
All three generations have slowly added vineyards to the domaine, which presently includes Gevrey Chambertin PC Lavaut Saint Jacques, PC Les Corbeaux (90+ years old vines), PC Poissenot, Gevrey Chambertin vieilles vignes lieuxs-dits Réniard and Aux Corvées, in addition to Bourgogne Rouge.
As stated above, we arrived with high expectations and were not disappointed. Surprisingly, the winery is part of their house under which his crumpy cellar is placed. Michel is old school in the most positive sense. "Nous travaillons selon des methods anciennes", and their wines are made pretty much the same way, depending on the vintage. Wines are aged in French oak barriques, 50% new and 50% one year old, for some 18 months. No fining and filtration.
Michel and his sister make attractive, stylish and generous wines in which plenty of fruit shines through sophisticated tannins – always a joy to drink.
We have been regular costumers here since 2013 and always look forward to our next visit. To be honest, we can't remember having tasted or bought a bad wine from here. Each of their wines offers excellent value for money.