Domaine Sylvie Esmonin, Gevrey-Chambertin
---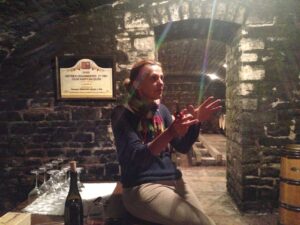 Our introduction to this domaine was by chance, dating back to the summer 1988. We started out in Provence showing the Roman history to our children. To keep up with the planned visits to historical places, we even had to use the hot hours between 12 and 15 hours!!
After a very hot and instructive week, we arrived in Gevrey-Chambertin aiming at getting some basic insight into their famous culture on wine and gastronomy. The only info we carried in our luggage was that the owner of the gîte, we had rented, also made wine! To be honest, we were spell-bound from the moment we met Michel Esmonin, who says of himself, "I am a vigneron, from the head to the feet, and the feet to the head". Once asked, how many back vintages he had for comparison, he promptly answered, "You can't have lots of friends and old wine. I have lots of friends". He or she, who has met Michel Esmonin, knows why. The history of the domaine goes back to Michels father, Henri, one of eight children, born in 1905. Henri and his brother worked the 4-5 ha family vineyard, but the village wine and generics were not enough to support both of them and their families. Henri remained in Gevrey tending what was then Comte de Moucheron's monopoly, the Clos-Saint-Jacques, plus other vines of his in Chambertin itself, Lavaux and Estournelles-Saint-Jacques, first as an employee which subsequently turned into one of métayage. In 1954, Comte de Moucheron sold his estates and the Clos-Saint-Jacques was divided into four parcels (Armand Rousseau 2.20 ha; Fourrier family roughly 1 ha; Clair-Daü domaine 2 ha, subsequently divided between Louis Jadot and Bruno Clair; Henri Esmonin 1.6 ha). Michel, born in 1938, took over this and Henri's other vines on his father's retirement.
Sylvie, born in 1961, ingénieur agronome at Nancy and diploma d'oenologie at ENSA Montpellier, joined her father and made her first wine in 1989. She took over completely from 2000. Since her arrival, Sylvie has transformed the domaine, from selling almost entirely to the best négociants into an excellent source of wine, bottling all the domaines wines. In her hands the vineyards became entirely biologique. The harvest has been reduced and rather more new oak was introduced. Vinification is designed to generate balanced, silky and generous vines. After a triage, there is 100% destemming for the Bourgogne rouge and Côte de Nuits Village, while some 30% whole clusters are used in the village Gevery and 60% in the Gevry vieilles vignes, and even more in the Clos St. Jacques, depending on the vintage, and the fruit is passed through a fouloir to gently break the grapes before maceration. After four or five days maceration frois, Sylvie seeks a gentle fermentation, as long as possible, with plenty of pigéage. After écoulage, the pulp is pressed and some of the pressed wine is added to the free-run wine. Then into Burgundian Chatillon oak casks or casks from Laurent. Sylvie leaves the wine to feed on its lees as long as possible, protected by carbon dioxide rather than sulphur, and racking does not take place until June with only one additional racking before bottling, 18 months after the vintage. There is neither filtration nor fining. The line up includes Bourgogne rouge (80 a), Côte de Nuits village from Brochon (69 a in Les Vignois and La Croix Violette in Brochon), Gevrey-Chambertin (3.9 ha) of which there are two cuvées, a regular (in fact the vines are 50+ years old) and a vieilles vignes cuvée, the oldest parcels of which were planted in 1919 and 1920. Half of this cuvée comes from Les Epointures, Corvées and some Clos Prieur 1er Cru. The other half comes from various lieux dits in Combe, Vosne, Sylvie, Songe and Dérée, and the Clos-Saint-Jacques (1.6 ha) the average age of which is some 50 years. In 1995 Sylvie took on the lease of 19 a of Volnay Santenots and 24 a of Bourgogne blanc.
Our annual visit always starts in the Clos-Saint-Jacques vineyard close to the cellar. Detailed information on what has happened during the year is given, and the impact on harvest discussed. This is followed by tastings from the casks accompanied by discussions on the potential of the wine and comparisons with previous vintages. Add to this sharing info on family events, the political and financial situation etc. After some two hours we leave in high spirits with the air condition on, to ensure a protected transport of wine back to Denmark, looking forward to nurse the wine properly as promised, and enjoy the wine in due time.