Gérard Mugneret, Vignerons de Pères en Fils à Vosne-Romanée
---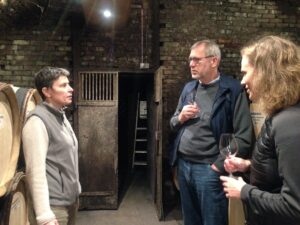 The unpretentious little village of Vosne Romanée and its prestigious vineyards behind, observed from RN74 do not leave you with the impression of being in pinot noir heaven on earth. There is no doubt that Vosne Romanée is the brightest star of Côte de Nuits – and the most expensive! Romanée-Conti is often referred to as the World's most expensive wine!
Our first visit to a cellar in Vosne Romanée was during the Saint-Vincent Tournante in Gevrey Chambertin in January (29-30th) 2000. We visited the domaine Andre Pernin-Rossin, a disciple of Guy Accard. The following year we visited Domaine Bruno Clavelier, a highly recommendable domaine, which makes great wines, among which are some very good villages. A number of less known domaines from outside the village also produce noteworthy Vosne Romanée wines.
Of the eight Vosne GC's, the Echézeaux and Les grands Echézeaux are the only ones that can be bought at a sensible price!
Upon returning to Vosne Romanée some years ago, we were looking for domaines making fine examples of Les Suchots PC, Les Brulées PC and the lower parts of Les Beaux Monts PC.
Having noticed that Pascal Mugneret, the present owner of domaine Gérard Mugneret, intends to reduce the proportion of wine sold direct to private clients to some 40%, we turned to domaine René Cacheux and Fils, where we were cordially welcomed by Gérald Cacheux. Tastings also convinced us that he is a passionate vigneron, who cares deeply about making the best wine possible.
However, after having red the article on the progress of domaine Gérard Mugneret in Bourgogne Aujourd'hui (2014, 117, May/June pp. 44-45), we decided to contact Pascal Mugneret to examine, if it was possible to sign up as a new client. Nothing promised, but we stayed in contact, and finally managed to get an appointment.
All our expectations came true, Pascal Mugneret has a contagious enthusiasm aiming at perfection for all his appellations. In his letter on millésime 2017 to the clients, he writes: Je peux dire, "que depuis 2005, je n'ai eú de cesse que d'avancer dans une direction: le respect de la vigne et des sols garant de l'expression intrinsèque des terroirs, progressivement les vinification ont été orientées vers un style plus pur, plus libre". Les vins ont évolué vers plus de raffinement et de subtilité.
His willingness to share his passion and idealism with his clients is also demonstrated on his website, one of the most informative, we have seen so far.
Pascal Mugneret took charge of the family domaine in Vosne Romanée, Domaine Gérard Mugneret, in 2005, and as stated above, he is still "learning". The domaine presently includes 6.4 ha (Bourgogne Passetutgrain (0.93 ha; 5 parcels), Bourgogne Pinot Noir (1.02 ha; 4 parcels), Gevrey Chambertin (0.27 ha; 1 parcel), Vosne Romanée (1.90 ha; 16 parcels), Savigny les Beaune 1er Cru Les Gravains (0.29 ha; 1 parcel), Vosne Romanée 1er Cru Les Brulées (0.27 ha; 2 parcels), Vosne Romanée 1er Cru Les Suchots (0.37 ha; 1 parcel), Chambolle Musigny 1er Cru Les Charmes (0.25 ha; 1 parcel), Nuits Saint Georges 1er Cru La Richemone (0.17 ha; 1 parcel), Nuits Saint Georges 1er Cru Aux Cras (0.27 ha; 1 parcel) and Echezeaux GC (0.65 ha; 1 parcel).
Pascal Mugneret considers his different cuvées his children. They must be accepted for who and what they are, nothing more, nothing less, and as a grower one should take care of both the lesser appellations and GC with the same attention to detail.
On the regional level Pascal Mugneret has made two wines so far, a Bourgogne rouge and a Bourgogne Passetoutgrains. However, for the millésime 2017 he made a separate cuvée from a reginal parcel on the "wrong side" of RN 74 facing the parcels of Clos de Vougeot: Bourgogne Les Rouges Champs (70% de vendanges entières, 30% de fûts neufs, un rendement de 35 hl/ha). In 2017, he also started separating his Vosne Romanée lieux dits, and introduced a Vosne Romanée Cuvée Précolombière (les parcelles au coeur du village), which will be followed by two more in millésime 2018 (Cuvée Aux Vigneux and cuvée Quatrain). Finally, his Nuits Saint George 1er Cru Boudots will from now on appear as Nuits Saint Georges 1er Cru´ Aux Cras and La Richemone, respectively, as a result of legislation. As for children, we have no favorite wine here. We try to buy a selection of each millésime, if possible, and very much look forward to tasting his new cuvées.